The holiday season is just around the corner, and what better way to show your festive spirit than with Christmas-themed T-shirts? Whether you're looking for unique gift ideas or want to stand out at holiday gatherings, these creative Christmas T shirt ideas will make your Yuletide celebrations even more memorable.
Ugly Sweater-Inspired T-shirts
Embrace the charm of the classic ugly Christmas sweater with a modern twist. Ugly sweater-inspired T-shirts combine the comfort of a tee with the whimsy of traditional holiday patterns. These shirts are perfect for those who want to stay cozy and stylish during the festive season.
Personalized Family T-shirts
Get the whole family involved in the holiday spirit by designing personalized Christmas T-shirts. Each family member can have their name or a fun holiday phrase on their shirt. These shirts make for memorable family photos and are a great way to bond during the season.
Vintage Christmas T-shirts
Bring a touch of nostalgia to your holiday wardrobe with vintage-inspired Christmas T-shirts. These shirts often feature retro designs, classic holiday icons, and timeless color schemes. They're perfect for those who love the timeless charm of yesteryears.
Funny Christmas Quote T-shirts
Spread laughter and joy with T-shirts that feature hilarious Christmas quotes. Whether it's a witty pun or a humorous take on holiday traditions, these shirts are sure to be conversation starters at your next holiday party.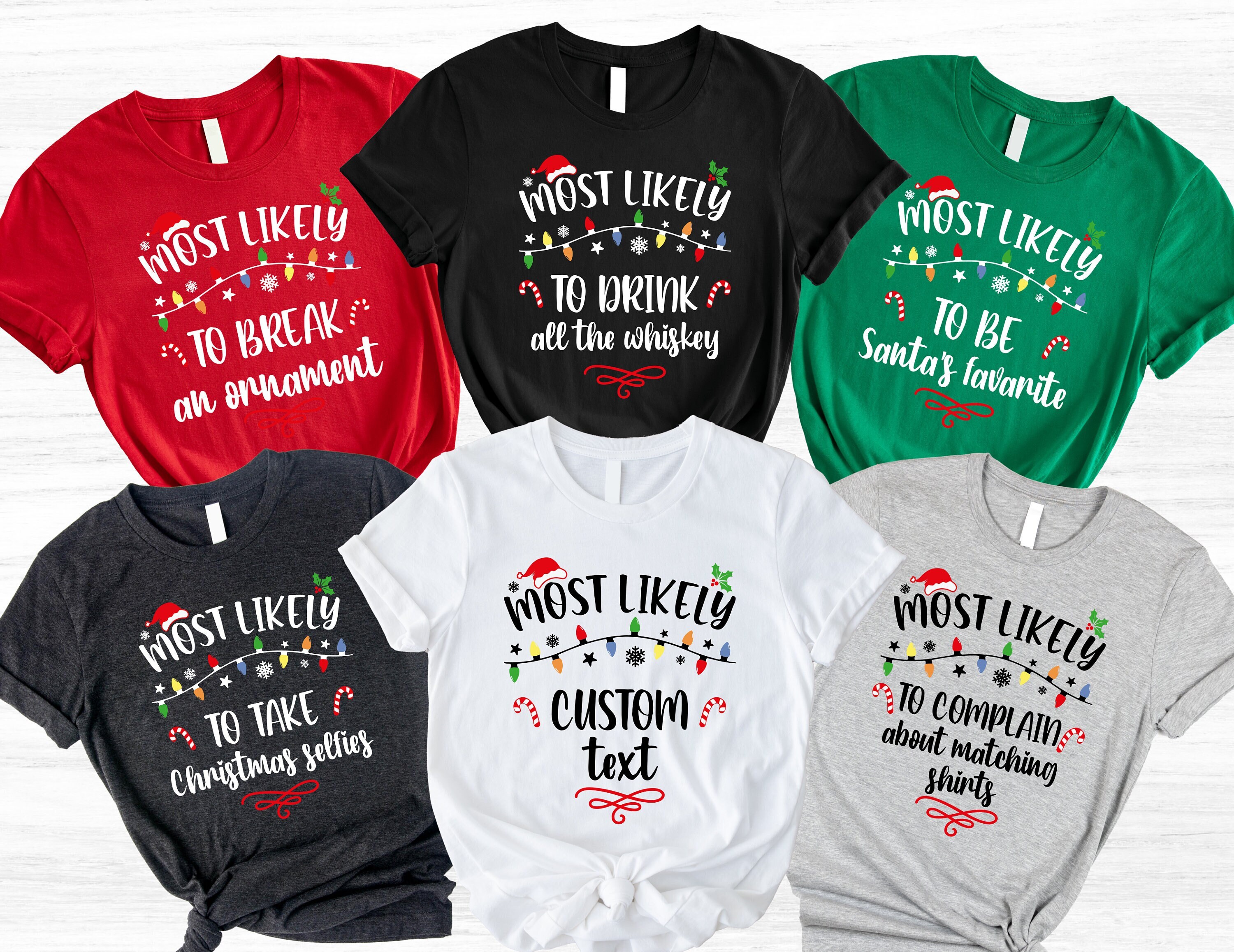 Christmas Movie-Inspired T-shirts
Pay homage to your favorite holiday movies with themed T-shirts. From "A Christmas Story" to "Home Alone," there are endless possibilities for creative and memorable designs. These shirts are perfect for movie buffs and will spark conversations about your favorite films.
Minimalist Christmas T-shirts
Sometimes, less is more. Minimalist Christmas T-shirts feature subtle and elegant designs that capture the essence of the season without being too flashy. These shirts are versatile and can be worn even after the holidays.
Pet Christmas T-shirts
Don't forget your furry friends this holiday season. Get your pets in on the festive fun with Christmas T-shirts designed specifically for them. Coordinate your outfits for family photos or let your pet's shirt be the star of the show.
DIY Christmas T-shirts
If you're feeling crafty, create your own DIY Christmas T-shirts. You can use fabric markers, iron-on transfers, or stencils to personalize plain tees. Not only will you have unique shirts, but you'll also have a fun holiday project to enjoy.
Matching Couple T-shirts
Celebrate the season of togetherness with matching Christmas T-shirts for couples. These shirts can feature complementary designs or combine to create a festive picture when you stand side by side.
Charity Christmas T-shirts
Spread goodwill and help those in need with charity Christmas T-shirts. Many organizations sell T-shirts where the proceeds go to support charitable causes. It's a great way to give back during the holiday season.
In conclusion, there's no shortage of creative Christmas T-shirt ideas to make your holiday season extra special. Whether you prefer funny and whimsical designs or classic and elegant styles, there's a Christmas T-shirt for everyone. These festive shirts not only add to the merriment of the season but also make for memorable gifts for your loved ones.
Looking for the perfect Christmas T-shirt to brighten up your holiday season? Visit our website for a wide selection of unique and festive Christmas T-shirt designs. Make this holiday season merry and bright with the perfect T-shirt that reflects your holiday spirit. Happy holidays!